The Ultimate Client Experience
Free Consultation! $70 Cleaning & Check-up. Does not include x-rays
I received a very friendly greeting from the moment I entered the office I had a chance to meet the dentist and staff who are courteous and professional. The dentist addressed all of my concerns about the procedures and ensured that I was comfortable before the procedure started. They kept me updated on every step of my procedure and what to expect after my appoint was over. I scheduled a follow up appointment for the remainder of my procedure and I have full confidence that they will complete an excellent job on my teeth.

The experience I've had here is excellent, from the front door to the Doctors chair. Friendly and Professional, I feel like I've known them for years. I'm so satisfied with the work that's being done.

Great experience my first visit very patience and understanding.My new dentist home

- Nadirah Love. 11/19/2019

Doctor and staff is very accommodating with friendly top notch service. This place is busy with limited office working days however the doctor is always willing to help out with any emergencies. Professional and reasonably priced dental services!

My experience was amazing. I had a bridge done. I was a little nervous but Dr. Yefim and his staff made me feel very comfortable. Before I knew it I was laughing and at ease with Dr. Yefim and his staff. I went back 2 weeks later for the permanent bridge. It was beautifully made and fit perfectly. Dr. Yefim does excellence work. I found a Dentist l like. Thank you Dr. Yefim and staff.

Dr. Yefim Aranbayev has got to be the greatest dentist I have ever been to. He and his staff are so welcoming, they make you feel like family. You are almost excited about going to the dentist. Most importantly my smile is complete!!!!****TING****

- Renee Adderly. 5/18/2018

Most incredible dental experience everrrr. I will not trust any other dentist the way I trust this one . He makes you feel so welcome and comfortable. Definitely aims to help his patients in any way possible!

- Jillian Nickels. 3/13/2018

Dr. Dentist (that's what I call him), does great work, always makes himself available, and the best staff. He's fair, honest, and really cares about his patients . Give him a call, but not on Friday, that's my day!

- Charlene Shay. 3/13/2018

The experience was great, my tooth was removed in like two minutes with absolutely no pain. Experienced is the best teacher try this dentist and see for yourself. He is really good.

- emmanuel johnson. 3/7/2018

The best dentist in the world. Everyone is so kind and patient had to get a tooth remove plus a bridge no pain and took his time with me doesn't even look like i had a tooth remove. Hands down my visit was great

- Doris Burbage. 10/29/2017

Since a child I have always had severe anxiety when going to dentists. However I can honestly say after seeing Dr. Aranbayev this past Monday anxiety is no longer an issue. From the minute I entered the office the staff was pleasant and welcoming. Having had root canals in the past that took several visits and cost a fortune-I dreaded the thought of needing another. Of course I not only needed one but actually needed two. I assumed I would be coming back for several visits and breaking the bank but instead it was the complete opposite. I almost didn't believe Dr. Aranbayev when he informed me that the root canals could be done in 15 minutes and would only cost half the price of what I paid in the past. That being said I walked out of the office Monday with my first painless root canal done in 15 minutes, fitted for the crown, and only paid half the price as I have in the past. The second I walked out of his office I texted all my family and friends and told them I have their new dentist!

- Rachel Gards. 10/1/2017

OMG this dentist is amazing. I had such a bad tooth ache and I went to 1 places before Darby family dental and they took 1 X-ray and couldn't find where the pain was coming from. They said if the pain doesn't go away in a few days to come back. Dr Fima took a few X-rays and found the problem right away. I already made an appointment for my daughter for a checkup.

He is the man and my honest dentist buddy

Awesome. I am not one for needles or pain. Neither of these were a problem. Painless and soothing. I would definitely refer them to everyone. Greatjob

- Gerri Goldman. 6/21/2017

I have never been to a dentist that is professional and friendly with their patients. I highly recommend this practice.

- John Partlowe. 5/28/2017

Oh My Goodness, My Tooth Looks Brand New! No Pain Or Anything Plus Dr.Yefim Was Very Sweet. I Was Nervous At First But He Made Me Feel Very Comfortable.

- Jada No Pinkett. 5/28/2017

This dentist is one you actually want to go to! Great doctors, great staff, and they are always looking out for your best interests. Cant ask for anything better.

- Nikolas Evangelopoulos. 3/29/2017

Best dentist office I've been to. I raved so much about this place a few of my co workers are making appointments.

- Joycie Young. 3/14/2017

Excellent Service! The Dr. Aran is all that seriously been here on multiple occasions and have recommend to all friends and family.. My wife had blood clots in here lungs but because had pre-existing tooth issue which had to be dealt with before surgery had to deal with the tooth... he walk through the process with us steep by steep called checked up the whole 9.... evenaftwr he solved her tooth issue called to see how she was doing.. years later I have to have root canal and it was the easiest most painless experience I've ever had in a dentist office.. trust when I tell you I let tooth issue linger because of past experiences he has really put and end to that phobia... The world needs more Docs like dude... come in get checked up and get it Done.. CANT GO WRONG

Great dentist ! Knows what he is doing and is always on point. Always says it like it is and does not try to nickel and dime people! Highly recommend him .

- james johnson. 1/21/2017

Dr. Yefim is awesome!! He truly cares about his patients and will do everything he can to help you. I will definitely recommend him to my friends and family

- Joselyn Alao. 0/18/2017

Amazing i was terrified of the dentist before today! Everything was pain less and the staff is awesome all very nice people!

- Zachary Smith. 11/21/2016

I'm glad I visit there, Family dantel was best choice, best rate and very nice customer service. I recommend others to visit there and get best services ever you can think. Wonderful experience

Just love all of the staff and Doctor Arabanayev...they all make you feel comfortable and important..first time ever that a root canal did not hurt after...quality work and reasonable prices..xo

- Carol McDermott. 4/20/2016
Whether you're looking to correct your smile, improve your child's bite, or prevent issues with tooth alignment, you've come to the right place. As a trusted orthodontist in Upper Darby, PA, Upper Darby Family Dental's goal is to ...

When health problems arise that require the help of an oral surgeon, the dental practice in Upper Darby, PA to turn to is Upper Darby Family Dental. As a trusted provider of oral surgery, Upper Darby Family Dental wants ...
Trusted Dentist in Upper Darby, PA
Are you looking for a dentist to educate you on the best ways to improve your oral hygiene? At Upper Darby Family Dental, our doctors are committed to continual learning. We believe in an individualized, gentle approach to dentistry. Our experienced staff is trained to use cutting-edge technology to help you get on the road to better oral health.
There are many reasons to take a trip to the dentist's office. Whether it's time for your routine checkup, you want to fix a crooked tooth, or you need extensive treatment, our professionals can enhance the appearance and structural integrity of your mouth while treating you with care and dignity. We're an established practice that is dedicated to helping individuals in the community make better health choices when it comes to their teeth and gums. We want our patients to have a pleasant experience at our office, so we have designed our space with the comfort and relaxation of our patients in mind.
When it comes to an accomplished, well-educated dentist, trust the practitioners at Upper Darby Family Dental. We offer evening and emergency appointments because we want to be as accommodating to our patients' needs as possible. Fill out the form online form on our website to get in touch with our professional staff.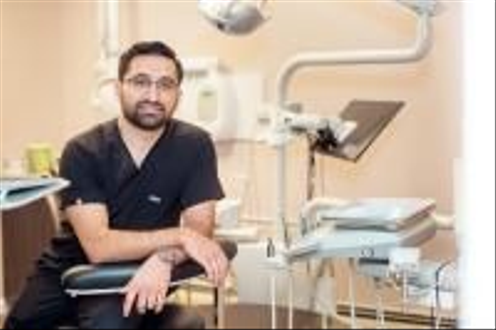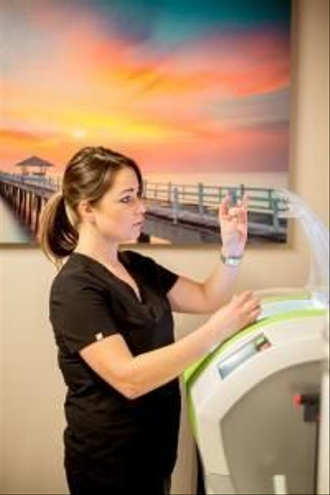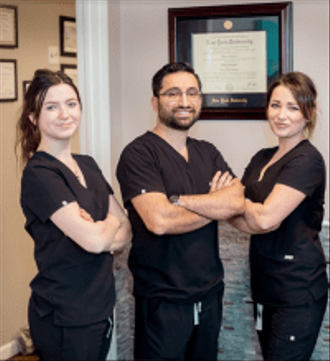 Upper Darby Family Dental
Mon: 10:00am - 6:00pm
Tue: 9:00 am- 3:00 pm
Wed: 10:00am - 6:00pm
Thur: 10:00am - 5:00pm
Fri: 10:00am - 4:00pm
Weekends: Closed